New Delhi: The episode started with housemate's discussing about the previous day of weekend ka vaar.
Salman entered with Arbaaz as he was here to promote his upcoming film 'Dolly ki Doli'. While Arbaaz was on stage, Sonam entered BB house. Sonam went inside the house and played some fun games with the housemates.
One of the games was spin the wheel wherein each housemate has to say one thing they want to change about the other. There were few interesting answers.
After coming out of the glass walled house, Sonam joined Salman and Arbaaz on stage.
Sonam danced on Dabangg tracks. Salman later asked Sonam some Bollywood based questions. Sonam was successful in answering almost all questions.
Sonam wore a red pre-pleated saree. In fact, all three including host Salman Khan were seen dancing to the tunes of Dabangg. Sonam and Salman have worked together in Saawariyaa. They will be seen together in Sooraj Barjatya's Prem Ratan Dhan Paayo.
The episode turned interesting when Karishma took Salman's jokes too seriously. Salman Khan, who often teases contestants of the popular reality show 'Bigg Boss 8' when he dons the host's hat, got upset after his joke was not taken sportingly by Karishma Tanna.
During the course of the show, Salman teased Pritam Singh saying that he might get a little confused whether he should talk to Karishma too. Though the superstar said so to tease them, Karishma began to cry.
When Pritam asked Karishma why she was crying, she said it is not funny to joke around all the time. A seemingly upset Salman then walked off the stage.
After returning Salman told Karishma that 'Bigg Boss' is an entertainment show and they all were having fun. If she wants it to be a boring show, all can sit back and do nothing.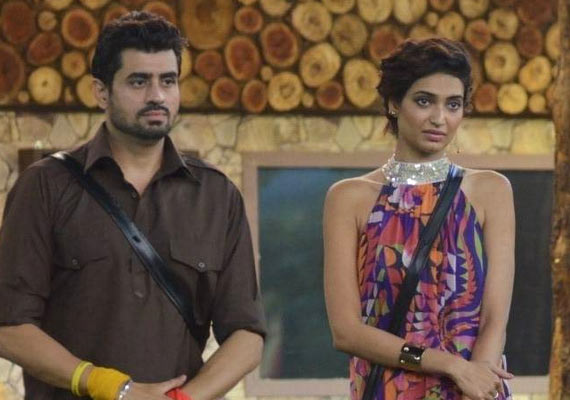 He also said that everyone even teases co-contestants Dimpy Mahajan and Ali Quli Mirza, but they seem to take it sportingly as it is all in fun.
Karishma, who then got nervous, told the 'Dabangg' star that it is not him and she has been feeling low the whole day. She also said that she got overwhelmed and felt sorry for it.
Upen Patel, another housemate, wanted to interrupt to explain Karishma's side, but Salman told him not to get in between. Salman even told Karishma that he just doing his job and all the things are told and done for entertainment.
With serious mood Salman hosted the rest episode and headed direct towards elimination. Without any fun and joke, Salman told Diandra to leave the BB house.
After a journey of thirteen dramatic weeks, Diandra's journey came to an end as she received the lowest number of votes for the week.
She was shown her own journey along with what the other housemates spoke about her in the house. Diandra was stunned at Gautam, Ali and Pritam's few comments.
Diandra gave bigg bomb to Karishma who will get advantage in coming luxury budget task.
Related Tags: bigg boss 8 , salman khan , karishma tanna , diandra , gautam gulati , sonam kapoor , upsetNews from e-generator.net