"Yeh Rat Aur Yeh Duri, Tera Milana Hai Jaruri…..Kee Dil Mera…..Kee Dil Mera Dhak Dhak Dole, Diwana Liye Jayey Hichakole," is there anyone who doesn't remember these lyrics? Anyone? Well, if you haven't….you have seriously missed something really big in your life.
It's common knowledge that this popular sing is from 90s classic 'Andaz Apna Apna'. It is one of those rare films which also starred Salman Khan, Aamir Khan, Karisma Kapoor, Raveena Tandon, Shakti Kapoor and Mehmood that tanked at the box office but later got the status of a cult film. Well, we couldn't agree more, Salman Khan and Aamir Khan's camaraderie was so perfect, that you watch this film once and you can never get over it.
This film will always hold a special place in our hearts because of its cracking humour. Lately, there are reports going around about the sequel of the film and we all know that anyone who has seen this film would love to see the original cast taking the franchise forward.
Wouldn't you agree that recreating this film with the new cast would be an ultimate sin? Looks like the people in 1994 were far more intelligent to realise the importance of what that cast gave us than the maker himself.
A recent report in DNA claims that Rajkumar Santoshi has given a heads up for the sequel but neither of the Khans will be seen in the film. And the news itself breaks our heart into million pieces. Like how…..how on Earth could he even say so?
"For humor, you need innocence. That time, these actors had the innocence. Now, it will look forced. It looks cute if a 20-year-old is chasing a girl. A 45-50-year-old man chasing young girls looks vulgar," said the maker in the report.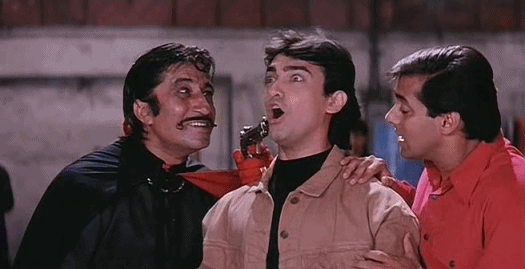 He also hinted that young actors will be seen in the film. "There is Ranveer Singh, Ranbir Kapoor, Varun Dhawan… They are all promising actors and they have the knack for comedy. I will pick up good talent for the film."
Well….well….well….we believe either the film should have Salman and Aamir or shouldn't be made at all!