After the heartbreak from the 6th episode of 'Game of Thrones' which takes the life of Viserion, Dany's beloved dragon, we are desperately wishing for a miracle. The dragon didn't need to die so soon and we are totally blaming Jon and Daenerys. But if fan theories are to be trusted, there's a silver lining in the clouds.
So 'Beyond The Wall' ends with the Night King transforming the dragon into one of his own, and the fiery red in Viserion's eyes is replaced with an icy blue. The scene sent shivers down the spine as we mentally cursed Daenerys for flying to Jon's rescue.
But the latest of fan theories suggests that the situation is not as bleak as it looks. If you recall the oft-quoted prophecy about the three-headed dragon that was interpreted to mean there would be three riders for each of Daenerys' 3 dragons. Besides her, Tyrion and Jon Snow have been the only 2 other characters who have shown affinity for the dragons. But with Viserion's death, the prophecy seems to stand incomplete.
Not if you consider the fact that all the Stark children have an ability to warg into animals. Besides Bran, Arya and Jon have been shown to be able to have a telepathic connection with their respective direwolves, Nymeria and Ghost. It is believed that both Arya and Jon are capable of warging, just that they are not completely aware of it.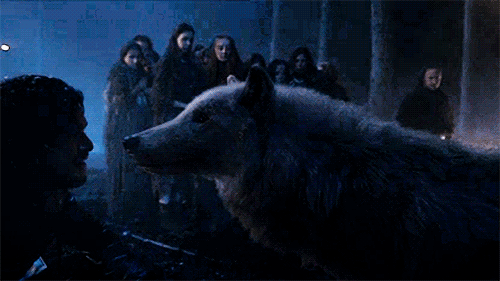 And thus, Jon will be seen warging into Viserion and controlling the ice dragon even though it is the Night King who resurrected him. For that matter, even Bran could control the ice dragon if it comes to that.
That's a legit thought. Jon does represent ice. Maybe the ice dragon was for him, after all.
it's symbolic that viserion died and turned into the ice dragon because viserys wasn't a dragon, but jon snow is and jon represents ice
— ã…¤lou (@poetrynico) August 24, 2017
Explains the sword opening its eyes then
Jon Snow was reborn when he emerged from the icy water like how dani did with fire so I believe that he'll gain control of the ICE DRAGON
— sonia (@sxniagarcia) August 23, 2017
Dragons can smell Targaryen blood
Jon Snow will ride the ice dragon. How else did he survive that fall into the ice? Reminds me of Deanerys when she was set to fire.
— FeaR Moho (@FeaRMoho) August 24, 2017
If Daenerys is the fire queen, Jon Snow is the ice king.